Visitors with special needs
In addition to our amusement park, climbing park and water park, there are many more things you can enjoy when you stay with us. Read on quick.
Accompaniment
Supervisors are responsible under all circumstances for the persons they accompany. For your own safety, the companion of a disabled person must be at least 14 years old or at least 1.60m tall when accompanying them on the attractions. With the exception of the Big Wheel and Aqua Mexicana, the supervisor must be 18 years or older. The permitted number of companions per disabled person is limited.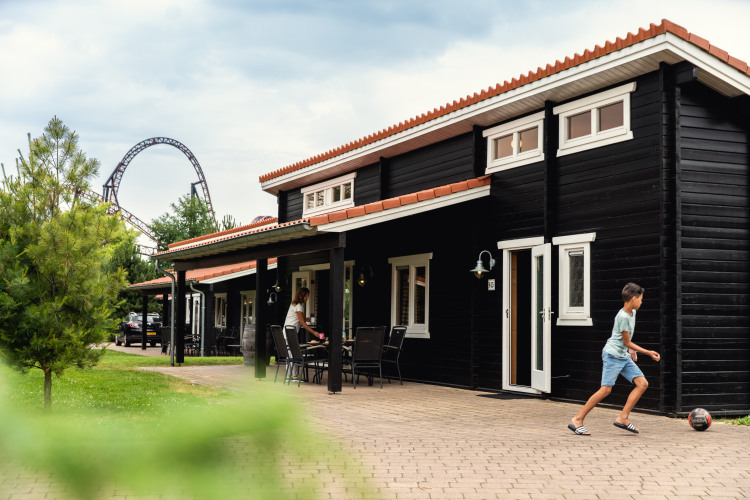 Holiday cottages for wheelchair users
For wheelchair users, a number of Nevada's and Cowboy Cottages have been adapted at the holiday park. These accommodations are rented on request, there are no additional preferential costs. These special accommodations can only be booked by telephone via 0523-683000.
Acces to attractions
If you cannot enter certain attractions via the regular waiting line, you can collect a wristband from the amusement park's Guest Service if you have a visible disability. Guests with a non-visible disability will be asked to present a statement. With this wristband you can enter the attraction through the disabled entrance or through the exit.
Depending on your disability, certain attractions are restricted or not accessible. The staff member at the attraction decides, on the basis of the conditions, whether access to the attraction is possible.

Accompaniment
If you need accompaniment during your visit to our park, this escort must always be at least 18 years old and at least 1.50 metres tall. The escort must be responsible for the person being escorted.
A maximum of three persons may accompany you during a visit to an attraction.
Borrow a wheelchair
Wheelchairs can be borrowed from the Guest Service based on availability. There is a deposit of 25, - per wheelchair, which you will receive back if the wheelchair is returned in the same condition as it was given. It is not possible to reserve a wheelchair in advance.
You can rent a wheelchair per day, this is not possible for several days in a row. If you want to rent a wheelchair for several days in a row, we recommend that you bring your own wheelchair. You can rent these through a home care shop or health insurance company, for example.
Restaurants
The restaurants are designed for the disabled.
Please note, the Crazy Horse Saloon is wheelchair accessible via Wild West Adventure and Randy's Pizza & Pasta is fully accessible with the exception of the platform and the upper floor.
Toilets
All public toilets in the amusement park are equipped with a disabled toilet.